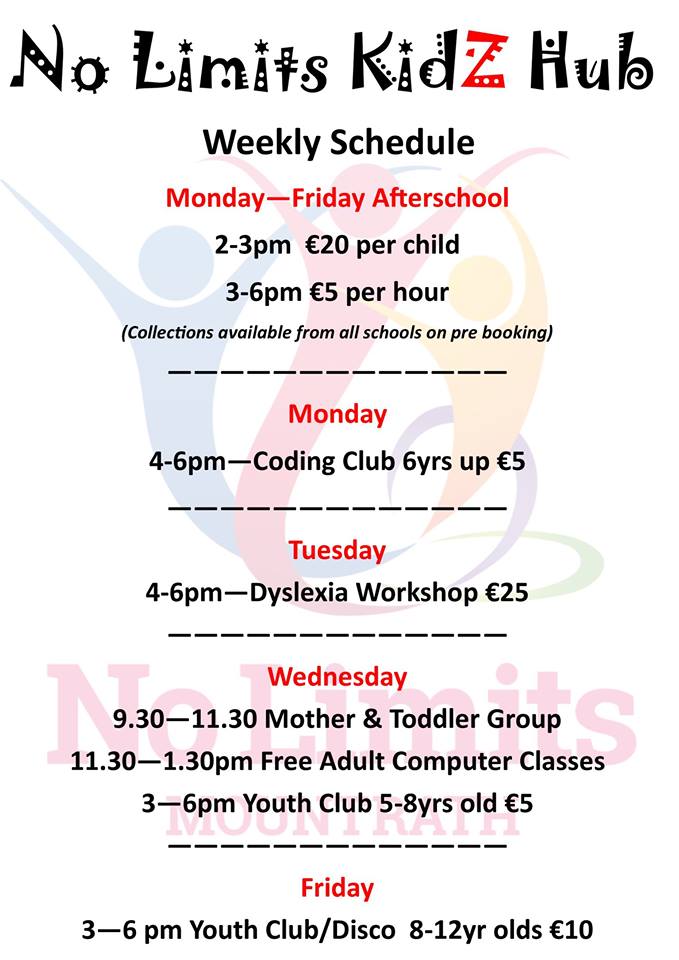 Afterschool, extracurricular activities and camp programmes are aimed at promoting the benefits of play, participation & social inclusion, while improving self confidence and mental health.
Open Monday - Friday, 2pm - 6pm.
For more information call Call (057) 874 1470
Check us out on Facebook for info on all our camps over the summer : @nolimitsmountrath
No Limits opened its doors on Main Street, Mountrath, 11th May 2016. All staff are qualified, Garda vetted and child protection trained.
Operated by two full time volunteers and programmes facilitated by a team made up of experienced staff from within the world of Business, Childcare, Teaching, Youth Work, Special Needs Assistants (SNA) & Healthcare many of whom offer their time on a voluntary basis or are on various government supported back to work schemes.

Catering to a wide spectrum of need, No Limits offers a range of educational & recreational programmes for all school going children.
The afterschool programme facilitates all primary school going children.
Offering supported homework, healthy snacks provided, free time play and extra curricular recreational classes as standard each evening, including Art, Drama, Music, Dance and Sport & Coordination.
We offer an after school service with collection at present from St Fintan's Boys NS, Scoil Bhride GNS and Clonenagh National School at both 2pm & 3pm.

Should the demand merit it from September we will also be providing a daily collection service from both Castletown N.S and Paddock National School.

Charges are set at €6 per hour for the 2-3pm Afterschool based on a minimum of 5 days, and €6 per hour based on a minimum of 2 Days per week and 2hrs per day. Discounts are available for those with two or more children.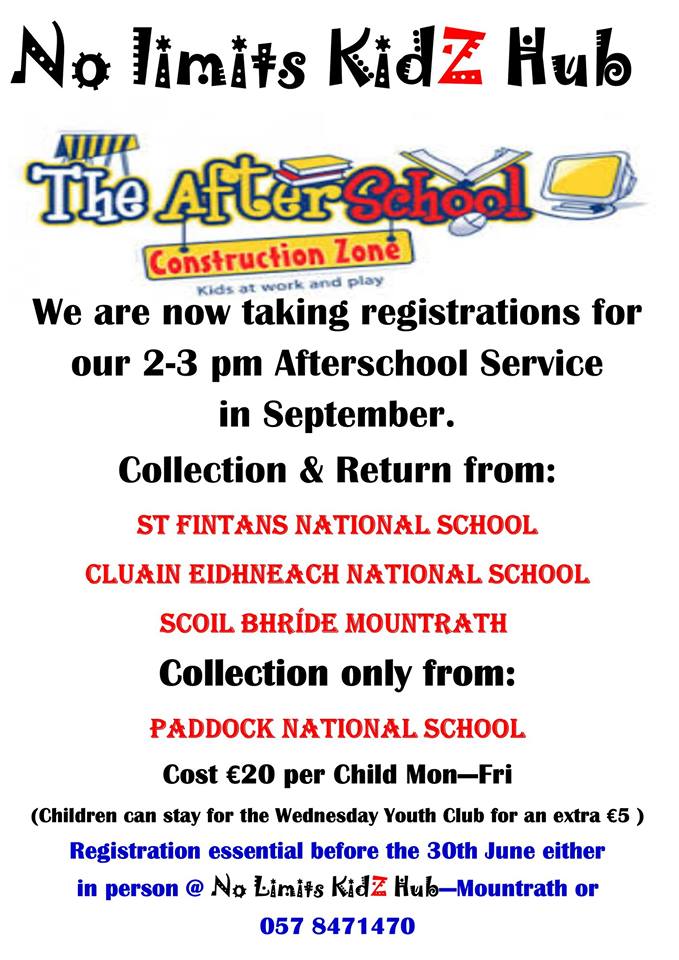 We are actively taking registrations for our September 2-3pm Daily After School Service.
Numbers are restricted and therefore registration will be on a first come first serve basis so please don't hesitate to register your child's name on either 0578741470 or in person within No Limits KidZ Hub - Mountrath.
All small surcharge will be applied for Paddock National School collection to cover the bus.